Hu Jie Ming
Chine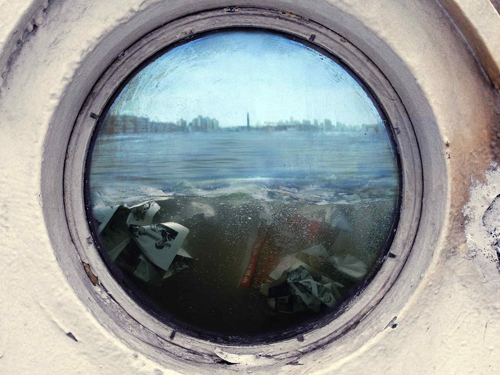 Altitude Zero
2006
Installation vidéo interactive
Au travers d'un hublot, la mer avec en toile de fond une ville qui déploie ses gratte-ciel. Une mer pure, magnifique, imposante. Le spectateur est attiré par cette fenêtre sur l'océan et la ville à découvrir. Lorsqu'il s'approche, un monceau de déchets flotte alors entre deux eaux. Par cette interaction, très simple, Ming renvoie le spectateur à sa responsabilité dans la pollution massive des océans, à cette "soupe de plastique" que les courants marins concentrent au milieu du Pacifique.
Il écrit : Ces matériaux à la dérive évoquent les restes de différentes cultures et époques. Parfois ils se fracassent contre les hublots, parfois ils s'en éloignent en flottant, créant un effet de résonance entre les spectateurs et les objets.
---
Biographie

Né en 1957, vit et travaille à Shanghai. Un des premiers artistes chinois à avoir créé avec les médias numériques. A participé à de nombreuses expositions en Chine et à l'étranger. Parmi ses expositions personnelles : Raft of the Medusa, Center for Contemporary Art of Asia, Vancouver, Canada (2002); Conected to You, BizArt, Shanghai (2003); Reverberations of the City, Dimensions Art Center, Beijing (2005); Creative Garden, Shanghai (2006). Parmi ses expositions de groupe : Art in Technological Times, San Francisco Museum of Modern Art, San Francisco (2001); Live in Time, National Galerie Im Hamburger Bahnhof Museum Fur Gegenwart, Berlin (2001); Between Past and Future: New Photography and Video from China, International Center of Photography, New York (2004); The Thirteen: Chinese Video Now, P.S.1 Contemporary Art Center, New York (2006).